---
Robotics
Unique solutions for unique situations. This is why you come to Sanders Machinebouw. Our solution may involve using and implementing robotics: from full system integration to stand-alone robots, 'collaborative robots', or tests to optimise your processes. We provide flexible and dependable robot systems that retain their value.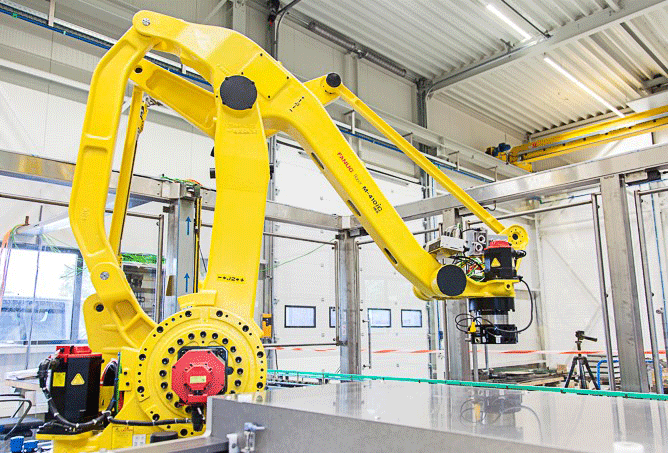 Sanders machinebouw looks for and finds the smartest solutions - also in robotics. Thanks to years of experience in innovative engineering, we can deliver customised equipment to fit your existing machinery.
This is how we distinguish ourselves in robotics:
analysis, engineering, construction (including programming), installation and maintenance in one
the elimination of risks through virtual and real simulations (using our own test robot)
customer-specific machinery, stand-alone or fully integrated
use of 'vision': visual recognition, for quality control and product detection, for example.
Robotic test centre
A test set-up with our robot helps to develop new solutions and eliminate risks. We can also test with specific robot types or brands thanks to our partnerships with manufacturers.
Optimisation and flexibility
Fully-automated processes, data logging and management information, optimisation of your OEE: these are some possibilities of robotics. Robots result in less downtime, stable quality of end products, consistent quality assurance and faster cycle times. Moreover, they are flexible in terms of the deployment options, while being efficient and retaining their value at the same time.
Smart solutions
Current production techniques will change dramatically in the future: full automation and data logging that allows continuous optimisation to smart factories that manage and solve problems internally. One step short of full automation, the collaborative robot enables safe collaboration between man and robot.
Sanders Machinebouw supports you during each stage with thorough analysis, smart solutions and a customised service.